Mold Release Agents for Natural Rubber and Synthetic Rubber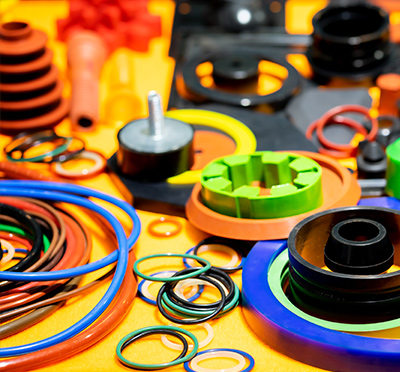 Rubber is extremely versatile and can be used to make everything from shoe soles, rubber grommets, o-rings, hoses, and hundreds of other parts. Since rubber is typically not very reactive and is almost solid when molded, it is not too "sticky" of a process and so having an aggressive mold release is not necessary. Instead, the process requires a thin but durable film that will remain bonded to the metal. When rubber mold release agents are too thick, the residue can be collected during the injection process and deposited on the metal components. This will result in either knit-lines in the fusing of the rubber compounds or delamination of the rubber from the metal component which will often produce defective parts.
We serve various industries, from medical, pharmaceutical, biomedical, food, chemical, building, electronics, construction, automotive, and plumbing. If you need a reliable natural or synthetic rubber mold release mixture, we can create a solution that performs every time.
---
A Diverse Set of Supported Materials
Our rubber mold release agents work with the following supporting materials:
Fluoroelastomers
Silicone
Nitrile
BUNA
Natural rubber
HNBR
Butyl
Polychloroprene
SBR
Neoprene and peroxide-cured rubbers
ECO
CPE
Re-vulcanized crumb rubber
and many others
---
Rubber Mold Release Agents Help Produce Numerous Products
Rubber molding allows for the manufacturing of an almost unlimited amount of applications and products. Every industry uses or benefits from these products, thanks in part to their versatility and utility.
Our rubber mold release products have helped manufacturers create thousands of products, including:
Abrasion Resistant Parts
Bumpers
Sheets
Gaskets
Grips
Hoses
Grommets
Seals
Tubing
Rubber-to-Metal Bonded Products
Vibration Control Parts / Vibration Isolation Parts
---
Custom Formulations
Hightower Products specializes in custom formulations of natural rubber and synthetic rubber mold release agents. If your current supplier has discontinued or altered a formula, we can rapidly develop a replacement product that will meet your needs.